Neutral Liquid Soap - BIO


Flora Pisa

See also: Hygiene products , Aloe , Organic Cosmetics
---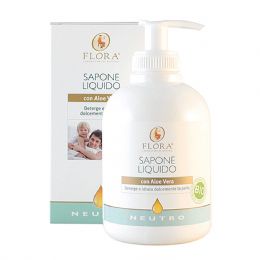 Content - BIO - 250 ml / Fl.Oz. 8.8
[NF2015]
Code SP00494-1
Weight 0.30 kg.
in stock
Price: 13.00 € 11.00 € -15.4%
---

Content - 1 lt / Fl.Oz 35.19
[NF2011]
Code SP00494-2
Weight 1.10 kg.
in stock
Price: 26.90 € 24.90 € -7.4%

Neutral Liquid Soap with Aloe Vera - For the hygiene and beauty care of the whole family.
Delicate Liquid Soap for the hygiene care of the whole family. Thanks to the synergy between its special new generation surfactants, together with its characteristically soft and delicate foam, it guarantees an effective cleansing action while remaining extremely gentle. It rebalances the epidermic pH. It respects the natural balance of the skin, including the most sensitive and irritable ones. Its pH 5.5 is physiologically compatible with the skin.
Formulated to reduce the risk of allergies often caused by synthetic fragrances and substances to a minimum. Especially formulated for use during homeopathic treatment
DERMATOLOGICALLY TESTED
This product has been tested and recognized as safe for the skin by specialized laboratories.
Specifications
| | |
| --- | --- |
| Codice: | NF2015 |
| | Aloe Vera*, Hibiscus extract, sweet surfactants derived from amino acids and natural oils with high affinity to the skin and high cleaning power. Plant marked with * have been sourced from Controlled Organic Farms |
| | 250 ml - Fl.Oz 8.8 |
| | It gently cleanses and hydrates your skin |
| | It can be used several times a day for the cleansing of your hands or as a normal Intimate Soap or Bath Shower. In Aromatherapy it is an ideal base to be mixed with essential oils: add to a dose of Neutral Liquid Soap 4-5 drops of 100% pure essential oils chosen among the desired and suitable ones. |
| | Aqua (Water), Coco-Glucoside, Lauryl Glucoside, Sodium Cetearyl Sulfate, Glyceryl Oleate, Aloe barbadensis leaf extract, Hydrolyzed hibiscus esculentus extract, Dextrin, Glycerin, Polyglyceryl- 2 Dipolyhydroxystearate, Sodium Benzoate, Potassium Sorbate, Lactic Acid. |
| | 12 M |
| | IT CONTAINS NO COLOURINGS, NO ALLERGENS, NO PEGS, NO SYNTHETIC FRAGRANCES, NO PETROLEUM DERIVATIVES, NO PARABENS, NO SODIUM LAURETH SULPHATE, NO SYNTHETIC THICKENERS, INGREDIENTS AND PRODUCTS NOT TESTED ON ANIMALS |